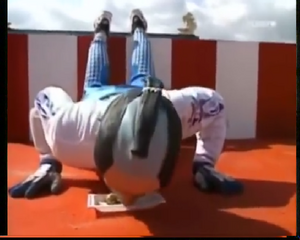 Two contestants at a time race each other through this obstacle course. 
On the starting whistle, the contestants run out of the stating doors wearing samurai costumes. First they have to walk across a balance beam, which is made more difficult by the long trousers. When they're across the beams, the contestants have to take off the costumes and put a bucket, with shoulder straps, on their back. 
Balls are shot into the air from a cannon. The contestants have to catch one of the balls in their bucket before they can move on. 
Once they've got a ball, the contestants take off the bucket and climb over a mini 'Great Wall'. When they've over, they slide down the other side to reach a small hurdle with a plate of food behind it. The contestants need to put their feet on the hurdle and, only using their mouth, pick up the three pieces of food. 
When the food is in their mouth, the contestants must get up and put a mask on the back of their heads. Finally they have to run backwards (so the mask is facing forwards) along a track to the finish line. 
The first contestant to reach the finish line wins the game, and moves onto the next round. The losing contestant is out of the game.