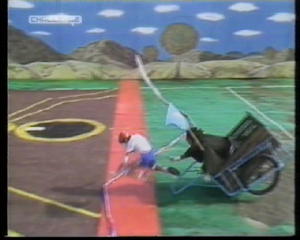 In 'Buggy Me', six players at a time have to race against each other through an obstacle course. 
After the General starts the game the contestants first dash to a mini hurdle and crawl under it. After that they have to stay low and make their way under a net. Now they must get up and run to a tub of white powder, which they have to stick their heads in to pick up a sponge with their mouth. 
Once they have a sponge they can grab one of the envelopes hanging in the air and open it. Inside is a number from 1 - 6. This tells them which rickshaw they have to pull along to the finish line.  If the contestants are lucky they will pick a rickshaw which only has a cuddly toy in it. But if they're unlucky they'll pick one with Animal, Kibaji or Strong sitting inside - making it a lot harder to pull along. 
The first two contestants across the finish line win the race.